Raw silver information and the daily silver quotes of the precious metal exchange
Picture Raw Silver
An interesting picture, natural fine silver 999/1000 in its raw form only cleaned. I think silver is really wonderful material for jewelry designers and offer jewelry artisians many ways to create fine jewelry designs.Fine silver is a relative weak metal and so it is very useful for handmade jewelry designs. Sterling silver is mixed with copper 92,5% parts are fine silver and 7,5% copper. The copper parts make the mate3rial more hard.
Daily World Prices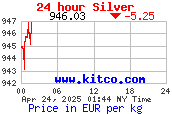 The prices for rawsilver are determined by variations of the worldtrading and are dependent on political and economic influences.
You can observe, that prices for Gold and Silver rise in bad economical times.
This diagram shows the actual prices for rawsilver by Kitko, the information platform for precious metals. As is well known, the prices of precious metals rise in times of crisis, always. In addition, the euro has against the dollar due to the crisis Greece lost considerable ground. Currently in July 2012 the price of silver is 709 Euro for a kilo. In the last two years the had for a short time rised up to 1000 EuroFor comparison: in 2006 it was 190 euros per kilo. That is quickly three times.
Nevertheless, it is still worthwhile to buy silver. According to experts, the price of silver in the future will also continue to rise, one would expect even a rise in negotiating tight than for gold, silver, and for this reason is even more interesting as an investment.
What is the effect of the rise in silver prices on our products?
We have not raised prices in general but only for the items we have now ordered new or re-order need. Each article is based on the price valid at purchase price. Order a product that is made ​​of silver, which we bought a year ago, it is also based on the then purchase price / selling price g. Buy an item that has been ordered to date, is based on the higher price per gram.
Grams of the price for wholesale orders, we unfortunately had to adapt to current conditions, because we do not have this item in stock.
The diagram shows the current prices for silver bullion, at Kitko, the information system for precious metals prices.